VH-BIM de Havilland D.H.82A Tiger Moth (c/n 3561)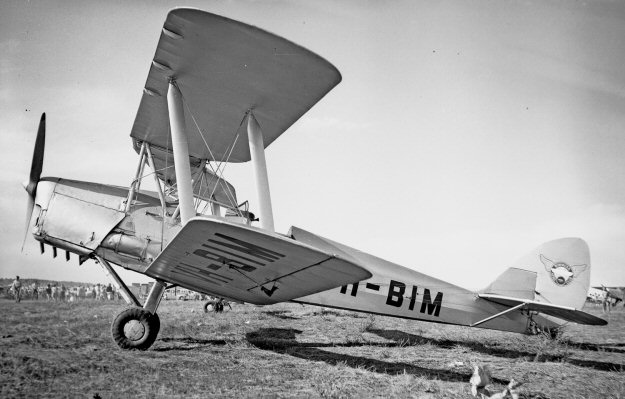 Here's a nice shot of a pre-war Tiger from the Silvestri collection (via the John Hopton collection),
probably taken at Horsham, circa 1948. The badge on the rudder says 'Wimmera Aero Club'
It is wearing a different club badge (Newcastle A/C?) in the photo below from the Reg Wood
collection. This 1937 model Tiger was built as G-AETO and exported to Australia in March
1940, although it was July of that year before it was given its Australian CofR as VH-ACP. (See
my comment under that rego regarding its importation in the early years of WW II) In the event,
the Newcastle Aero Club, who had imported it, only had the benefit of it for a scant month since it
was impressed into duty with the RAAF in August 1940 becoming A17-690. After hostilities had
ceased it was civilianized again in August 1947 as VH-BIM for the Wimmera Aero Club Why not
-ACP again? This marking had not been re-issued. Possibly due to the fact that the Newcastle
Aero Club either didn't want it back, or didn't bid enough for it, and hence the new rego. When the
RAAF took over the operations of the EFTSs in 1940, the loss of income to the Clubs who had
been performing these duties was compensated for, somewhat, at the end of the war by favorable
treatment given by the Commonwealth Disposals Commission to these clubs when they bid on
disposals aircraft and, just as importantly, truck loads of spares. In 1960 this Tiger was sold to
Superspread Pty Ltd who re-registered it into their series as VH-SSF.