VH-BBY (1) Avro 652A Anson 1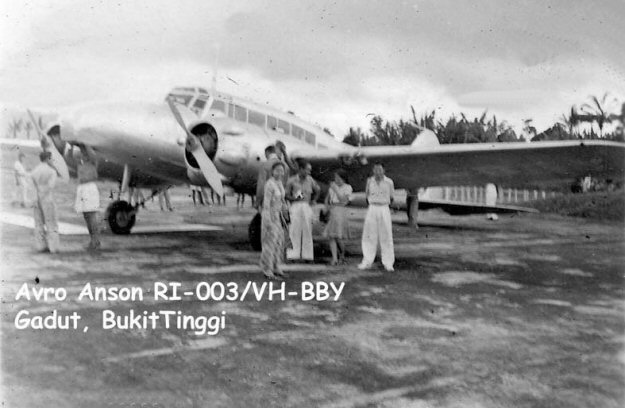 This rough, but rare image is from Allan Tamimi and shows VH-BBY, an Anson (ex AX505) which
was civilianized on 7 October 1947 and chartered by the fledgling Indonesian Airways, being (un-
officially assigned the rego RI-003). The even grainier photo below is from Alex Sidharta. Can you
contemplate flying from

any part of Australia

(even Darwin or Wyndham) across the shark infested
Timor Sea to

any part of Indonesia

(say Timor or Sumba) in an

Anson

? Nevertheless, this feat
was evidently common enough in those days. A number of other VH- Ansons made that crossing
from Darwin and Wyndham to Koepang. Two were delivered to the Portuguese Air Force on Timor,
Eric McIllree ferried four in a formation to England for resale, and various examples were flown to
Singapore, and to Hong Kong for Cathay Pacific, etc., plus the two delivered to the Indonesian rebels,
VH-BBY and -AGX. VH-BBY was sold in November 1946 by the Commonwealth Disposals
Commission at RAAF Evans Head to Queensland Ambulance Transport Brigade, Brisbane. QATB
had purchased a number of disposals at that time, including several Tiger Moths. Anyway, -BBY was
sold off to Air Traders Co and received its civil CofA in November 1947. It then departed Archerfield
for Darwin in December on delivery/charter to the fledgling Indonesian Airways. The pilot was Captain
H. Keegan, Chief Pilot of Air Traders Co. He was aged 25 and was employed as a pilot with Aircrafts
Pty Ltd, Archerfield. On 9 December 1947 Keegan flew the aircraft to Singapore where he met
Indonesian businessman Mr. Tamini who, along with with Burmese entrepreneur Mr. Savidge purchased
the aircraft for the Indonesian Republic. Keegan then flew it to Sumatra and thence on to Singora, Siam
with pilot Lt.Col. Iswahjudi, and Vice Air Commodore Halim Perdanakusama. At Singora, Keegan
handed the aircraft over to the two Indonesians, and flew back to Darwin via commercial airline. Sadly, on
the return trip from Siam to Indonesia the Anson crashed into the sea just off a beach on the Malayan coast,
80 miles south of Penang. The wreckage was found at low tide and a press report says the registration
VH-BBY had been painted over. A decapitated body was found floating in the sea, carrying the identity
card of Air Komodor Abdul Halim. Keegan later reported that the Indonesian Republicans "treated
me like a king", and from what I saw up behind their lines, I have a great sympathy for them. The Indon-
esians suffered a great loss in the death of these two fliers, they were really good lads and great airmen."
Clearly two of the 'founding fathers' of post war Indonesian aviation were lost in the tragedy. As indicated,
VH-BBY had been allocated the registration RI-003 for the embryo Indonesian Airways (or Air Force,
whatever the entity was considered). Unfortunately the machine crashed before this registration could be
taken up, and it was assigned to a Stinson L-5 later. At that time the Dutch were attempting to tenaciously
hold on to their East Indies empire and, so far as I know, ICAO never officially sanctioned the prefix RI- for
the Republic of Indonesia (since it was not truly a Republic at that time). Several machines had been
acquired at that time for use by either the newly forming airline or national air force for the country. They were:
two DC-3s, RI-001 (ex VR-HEC) and RI-002, a Stinson L-5 RI-003, another Anson RI-004 (ex VH-AGX)
and two Catalinas, RI-005 (ex VH-BDP) and RI-006. Marco Pennings of the Dutch Aviation Society paid
a visit to the old Bukit Tinggi airfield site in Sumatra in 2008 and took the shot below of the memorial erected
to honor the dead aviators. I imagine the 'tin' Anson was probably made from old Piper Apache parts or some
such! Marco also provides the picture of Capt. Keegan at the foot of the page, taken at Bukit Tinggi in 1947.