VH-BBG Piaggio P166 (c/n 403)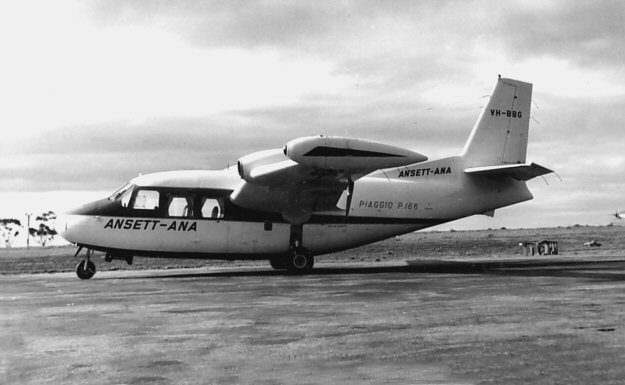 Of the 110-odd Piaggio P166s built, some 15 of them found their way to Australia, and several
were used in New Guinea.. VH-BBG was first registered on 28 August 1961 to the Bristol
Aeroplane Co. (Australia) Pty. Ltd. It was leased by East Coast Airways in 1962, in a red-and-
white color scheme. In mid-1962 it was leased again, this time to Ansett-ANA, for services in
Central Australia, still in the red-and-white scheme. It was then sold to Ansett-ANA in August
1962, delivered to Ansett-MAL in New Guinea, and re-registered VH-GOC in April 1964. The
above shot was taken by Richard Maclean at Essendon in 1962. Below is seen a rare shot by
Greg Banfield taken at Bankstown in January 1962 whilst -BBG was on lease to East Coast
Airways.