VH-BAW (3) DHC-1 Chipmunk T.10 (c/n C1/0091)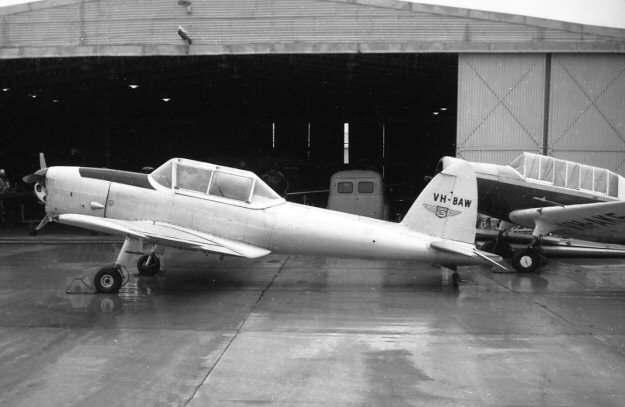 Interesting shot by Geoff Goodall at Bankstown in 1963 whilst the Chipmunk was with the South
Coast A/C. I don't think I've ever seen a photograph of a Chipmunk next to a Wackett Trainer
before. As can be seen, the Wackett was a tad larger overall. (Incidently, VH-AKF went to
Bankstown about that time ostensibly to be converted into a YA-1 Cropmaster). VH-BAW
had come onto the Australian civil register as VH-GAM in 1957 to the Gilgandra Aero Club,
having previously been with the RAF as WB651. Following a nasty accident with a fence on
the perimeter of Mendooran airfield, the club re-registered it VH-GIL (the second) in 1958.
South Coast acquired it in 1962 and re-registered it VH-BAW. It crashed at Wingabee Station,
Coonambie, NSW on 27 January 1964, but whether any of it was salvageable or not I don't know.