VH-AVT (3) Aero Commander 500B (c/n 916-6)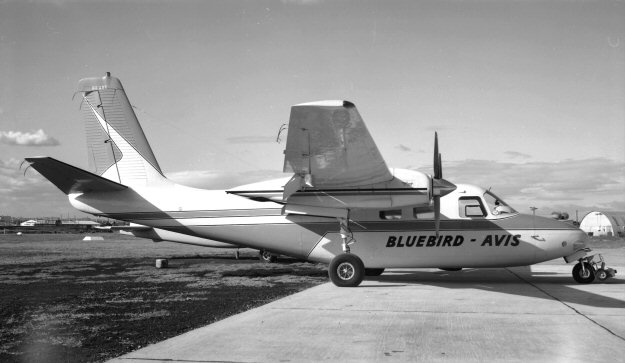 Also registered to Avis Rent-A-Car was this 1959 model Commander 500B, the third -AVT.
It was ex N8454C, and it is interesting to note that the VH- rego was painted on in exactly
the same minuscule lettering on the top of the fin as was done at the factory in Bethany, Okla.
Possibly it was purchased directly from Aero Commander as a "previously owned" model.
(For a photo of a US one taken by myself at Santa Monica when it brand new in 1959, check
out the my example in my US Executive section under Aero Commander 500B). Anyway, the
two shots on this page are both by Greg Banfield and show the aircraft (above) at Mascot in
June 1964 when it was being used in support of Donald Campbell's Bluebird world land speed
record program in Australia in 1963-64 and (below), somewhat later in February 1966, also at
Mascot, when the titling on the nose indicates that it was "Under Charter to / CSIRO / Division
of Fisheries and Oceanography". VH-AVT (3) crashed near Port Lincoln, SA on 24 May 1968.