VH-ASM Avro 652A Anson 1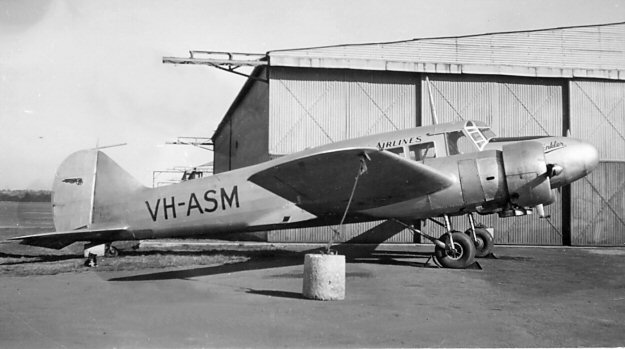 This was East-West Airlines' first aircraft, named 'Bert Hinkler' The airline provided scheduled
services from Tamworth, NSW into Sydney's Mascot Airport commencing in 1947. My shot
above was taken at Bankstown in 1953 just before the aircraft was acquired by Sid Marshall.
EWA later grew into a large regional airline. Interestingly, the crew of VH-ASM, whilst on a
regularly scheduled flight on 4 Sept 1948 discovered the remains of A.N.A.'s DC-3 VH-ANK
which had crashed two days earlier in rugged terrain surrounding Mt. Crawney, NSW. As stated
above VH-ASM was acquired by Sid Marshall in the 1950s. I often wonder if Sid bought it merely
for the rego: "

A

S

id

M

arshall" but maybe he really wanted another Anson anyway! The image immed-
iately below, taken by my good friend the late and great Peter R. Keating (and shown here courtesy
of the Geoff Goodall collection) shows it (at Bankstown) wearing Marshall Airways Charter Service
titling in Sept of 1958. It was withdrawn from service in 1962. The second shot below was taken by
David Thollar in February 1967 and shows poor old -ASM dismantled and dumped in Sid Marshall's
storage paddock on the edge of Bankstown Airport (via Geoff Goodall again). Finally at the foot of the
page is a shot by Geoff himself taken at the roll-out of a completely restored Anson marked as VH-ASM*
for an East West Airlines display at Tamworth, NSW Airport. The restoration was the result of a long
rebuild at the EWA's Tamworth base, and was completed by Sydney enthusiast John Gallagher at his
home in Loftus. Geoff's photograph was taken on day of

the restored VH-ASM's publicity showing at
Sydney Airport in June of 1987. It was moved to Tamworth Airport shortly afterward. Geoff tells me
that East-West were kind enough to comp him a flight across from Perth for the unveiling. Very nice!

* There reposes, in the RAF Museum in Hendon, an Anson stating to be W2068. The true VH-ASM
was indeed, ex-W2068. So far as I can tell there were probably two derelict Ansons in Sid's paddock
at that time back in the late 1960s. Clearly with co-mingling of parts both can claim to be the real W2068.