VH-ARV Percival P.44 Proctor 5 (c/n AE.2)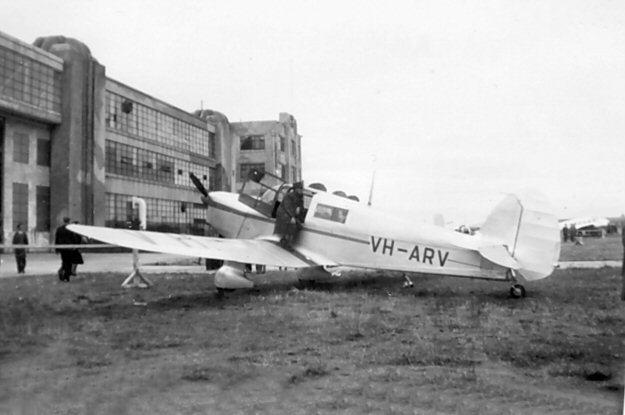 This historic photograph was taken at the old Commonwealth Aircraft plant at Fisherman's
Bend, Melbourne, in 1947. VH-ARV was built for the RAF as RM197. It went on the U.K.
civil register as G-AGSY in February 1946 and was immediately sold and shipped out to
Australia. Originally with Victorian and Interstate Airways of Essendon it went to the Aero
Club of Southern Tasmania in 1948, as seen in the in-air shot immediately below. Following
that is Graeme Parson's newspaper clipping from the Hobart Mercury for 21 September 1948
heralding the event. On 11 July 1954 VH-ARV crashed at Campania, Tasmania when it
encountered engine trouble on a cross country flight from Cambridge aerodrome causing the
pilot to make a forced landing in a freshly ploughed field. The port wing dug into the earth
and the aircraft was extensively damaged, although the pilot and three passengers were unhurt.
The fuselage was towed back to Cambridge and was later loaded aboard a ANA Bristol 170
(see photo at foot of the page from the Geoff Goodall collection) and taken to Melbourne,
where it became the basis for the reconstruction of VH-SAS.