VH-AQN Auster J/1 Autocrat (c/n 2341)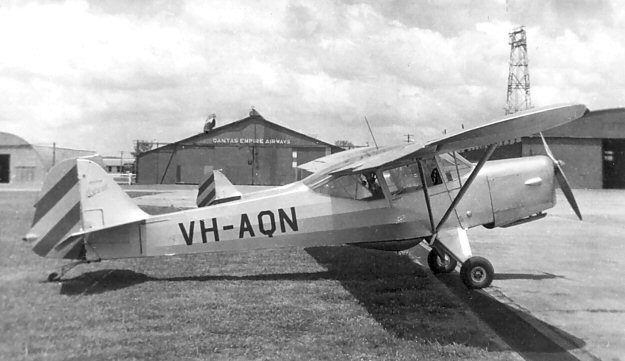 The Auster Autocrat was relatively rare in Australia, as I point out in my narrative for
VH-AJE, the market prefering the J/1B Aiglet or J/5 series to this 3-seat model. VH-AQN
was formerly G-AJIX in the U.K. This shot was taken at Brisbane's Archerfield Airport
in 1952 whilst the aircraft was operated by the Royal Queensland Aero Club. A year later
it was re-registered VH-AQO, i.e. one letter on. The reason for this is obscure. Possibly
the 'last two' of QN had some sinister radio call sign reference at the time? Whatever,
the rego is now used by a Tiger Moth. Interestingly, the first VH-AQN (the above machine
is the second) was also a Tiger Moth with a c/n one away from the current one! Anyway,
back to this -AQN. It was only VH-AQO for three years and then became VH-SAD.