VH-ANF (2) Douglas DC-4 "Loongana" (c/n 10302)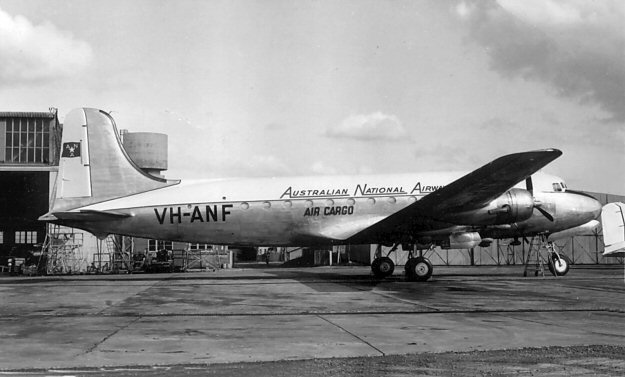 Soon after the first VH-ANF was sold to BCPA, ANA decided to replace it with a (less
expensive) ex-USAAF C-54A-5-DC . The second VH-ANF was delivered in December
of 1948, and given the same name,

('Loongana'

) as the first one. It saw wartime service
as 42-72197 and was civilianized as N49776 with Willis Air Service, from whom ANA
purchased it. VH-ANF was the aircraft in which (the very senior and experienced) Capt.
Keith Virtue inadvertently landed wheels up at Brisbane on 15 November 1954. So smooth
was the belly landing that very little actual structural damage was done, although the aircraft
was relegated to freight duties after that. However, Keith retired from commercial flying
following this mistake (with over 23,000 hours in his logbook). My shot above shows
VH-ANF in 'Air Cargo' livery at Essendon in 1956 Immediately below is an image from the
John Oxley Library, State Library of Queensland collection showing

'Loogana'

immediately
after the above stated landing accident. The aircraft passed to the merged Ansett-ANA
operation in 1957 and at the foot of the page are two nice shots of it by Geoff Goodall, in
full Ansett-ANA Cargomaster livery taken at Adelaide. The upper one in April 1963 and the
lower evocative night shot outside the hangar in June of 1962. VH-ANF was sold to CAT
(Taiwan's airline before China Airlines - with ties to the CIA) in 1967 and it was finally damaged
beyond repair at Battambang in the Khmer Republic during the Viet Nam war, in 1974.