VH-ANF (1) Douglas DC-4-1009 'Loongana' (c/n 42917)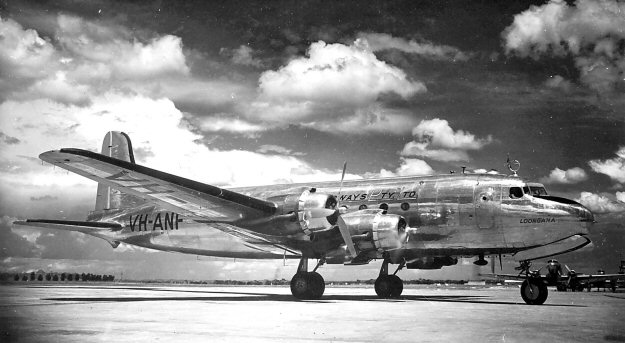 There were two VH-ANFs and two -ANGs. The first aircraft to bear these regos were
purchased from Western Air Lines (where I was to wind up working in the late 50s and 60s)
and were DC-4-1009s. Western at the time were experiencing cash flow problems (a fairly
normal state of affairs both then, and later), and having taken delivery of these two brand new
shiny DC-4s, I suspect that they were able to turn a profit by selling them off. VH-ANF was
formerly N10202. In the event ANA also sold them off a year later to British Commonwealth
Pacific Airlines, -ANF becoming VH-BPC. (The story of the intrigue between TAA and ANA
and the formation of BCPA is far too complex to relate here). By 1949 this aircraft was sold
to QANTAS as VH-EBK. After a stint with Basler Flight Service as N5581T it ended its life
when it undershot the runway at Hidden Bay, Saskatchewan in 1987 whilst registered C-GPFG.
I obtained the above (nice cloud effect) photograph from Australian National Airways in 1948.
It depicts the first VH-ANF, as evidenced by the appearance, in the background, of VH-UZG,
a DC-3 which had crashed before the second VH-ANF was acquired.