VH-AKO Short S25 Hythe (c/n SB3555)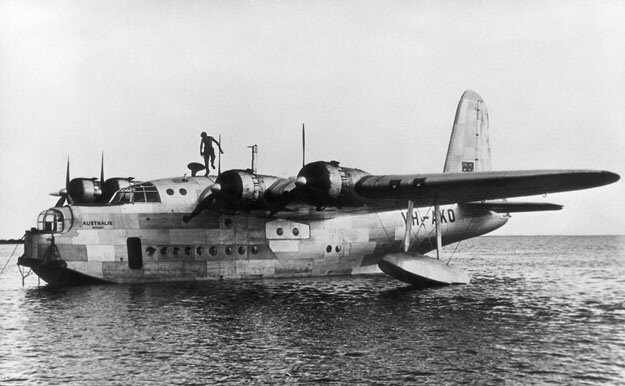 VH-AKO was built as a Short Sunderland III for the RAF as ML733. In 1944 it was flown
out to Australia becoming A26-4 with the RAAF, and operated with No 40 Sqn on transport
duties. It, along with VH-AKP and three others, was sold by the Commonwealth Disposals
Commission in 1946 to Mr. Bryan Monkton who converted it to 'Hythe' standard. In 1947 he
formed Trans Oceanic Airways (and later, South Pacific Air Lines) providing service to New
Guinea, the Solomon Islands, and the New Hebrides. VH-AKO was named 'Australis'.
The image above is from the Geoff Goodall collection, whilst the second shot (below) is from
the files of Fred Niven and shows the aircraft at Lord Howe Island in 1947. The penultimate
somewhat grainy shot, courtesy of the Australian Aviation Museum at Bankstown, was taken
in the Solomon Islands (also circa 1947) and shows VH-AKO being refueled (very manually!).
Finally, at the foot of the page comes an image from Bruce Kennewell taken from a post card
showing

'Australis'

about to board passengers whilst anchored on the Clarence River at Grafton,
NSW circa early 1950s.