VH-AKD Piper PA-11S Cub Special (c/n 11-894)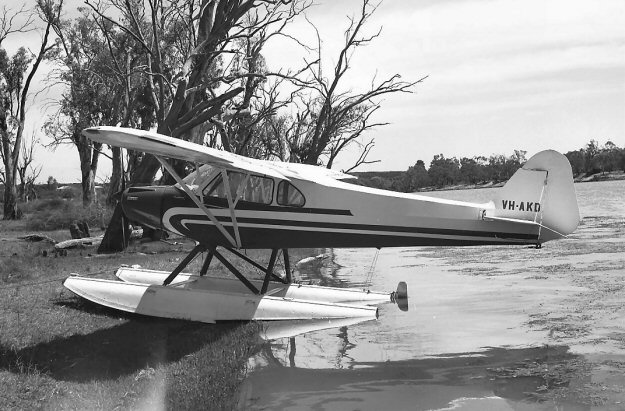 Nice shot (above) from Geoff Goodall of this PA-11 on floats on the River Murray, near Waikerie,
SA in November 1966. PA-11s are not the most common aeroplanes in the world even in the US
(only 1428 of them were built - a small production run by Piper standards). They were, of course,
superceded by the PA-18. VH-AKD had come in from Fiji in 1951 where it had been registered
VQ-FAI. In the islands it had been operated by South Seas Marine Products, a fisheries business
founded by the great Australian navigator Harold Gatty (of "Winnie Mae" fame, and who later founded
Fiji Airways). The floatplane Cub Special was used for fish spotting and was carried on the bow of
one of their boats. In Australia it was originally owned by Emlyn "Brud" Rees who also used it for
fish spotting. Immediately below are two images from the Graeme Parsons collection taken at Burrill
Lake, NSW, circa 1953. That's Brud on the float in the second photo image below. The Cub is still
current, although no longer on floats. Andrei Bezmylov took a shot of it (foot of page) at the March
2007 Avalon Airshow. It is now registered to an owner in Queensland. Nice to see it restored in
authentic Piper livery..