VH-AEO Douglas DC-3CS1C3G (c/n 6051)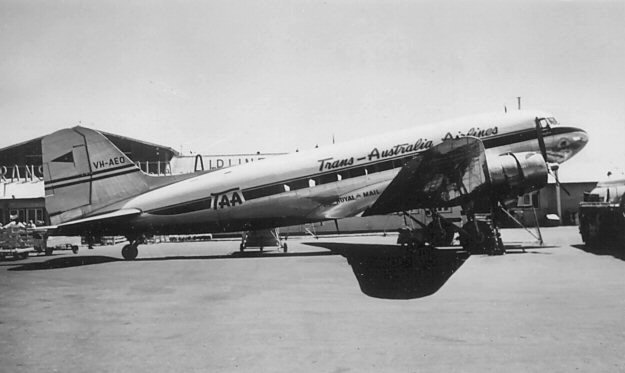 It is unusual for military aircraft to keep together over their careers, but TAA acquired many
DC-3s built on the same production line, at roughly the same time, as C-47-DLs. All were
assigned to the USAAF 5th Air Force and wound up in Australia. VH-AEO was such a
C-47-DL having been assigned serial number 41-38668.
It was civilianized for TAA in March 1945 and named

'Cunningham'

, later

'Clive Murray'

.
My shot above shows it at Essendon in 1954, whilst the shot below, from the Geoff Goodall
collection shows it in 1950 at Sydney. Nostalgic note for contemporary photographers (2017,
et al): I had no problem in wandering around the tarmac at Essendon's main airport in those
days! VH-AEO was reregistered VH-DAS in January 1958 This aircraft's claim to
fame came later when transported by road to Cairns and starred in the film 'Sky Pirates' by
being crashed into the sea. For the film it was painted in World War II olive drab, given a
fictitious serial number of '6903077' and named '

Miss Fortune

'. After the film it was trans-
ported to Tonkins Metal Industries scrapyard in Cairns. The fuselage hulk was rescued in
late April 1984 and transported on three semi-trailers and put on display at the Kuranda
Homestead near Cairns. I believe it is now completely derelict.