VH-AEN Douglas DC-2-112 (c/n 1259)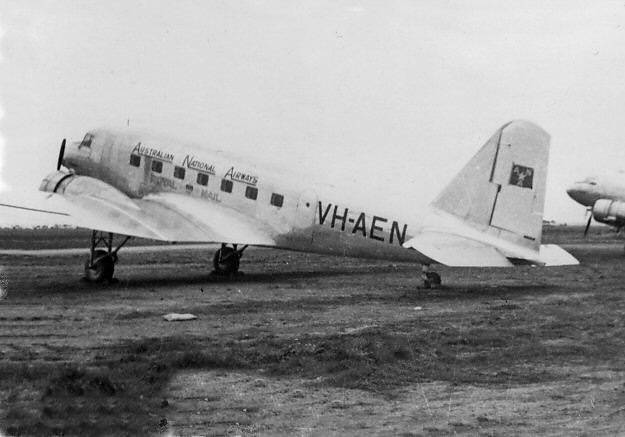 Rare photograph from the Geoff Goodall collection of the Australian National Airways DC-2
VH-AEN at Essendon, circa 1947. This machine was used, along with VH-ADZ on the ANA
passenger services to Perth via Adelaide, Ceduna, Forrest and Kalgoorlie from 1944 to 1947.
Interestingly, this DC-2 (formerly NC13733) was originally a General Air Lines machine, this
name being the pseudonym adopted by Western Air Express when the air mail contracts were
re-let in 1934 following the Postmaster General Walter Folger fiasco/scandal (see the entry under
General Air Lines in my US Airlines section). At the outbreak of WW II it became one of ten
EAL DC-2s acquired by the British Purchasing Commission, acting as agents for the RAAF.
Accordingly it wound up in service with the RAAF serialed A30-6, and call sign VHCRJ, paint-
ed in camouflage brown/green. Following a crash at Stock Route Strip, near Townsville in Dec
1942 it was demobbed from the military and issued to ANA at Essendon. Repaired, it became
VH-ADQ in November 1943. A few days later (on 4 dec 1943) it crashed at Bendigo East
while attempting to land in poor weather. Repaired again it was registered VH-AEN to ANA
in May 1944. Withdrawn from service by ANA in 1947 it was sold to New Holland Airways
for charter work. The poor old thing was finally struck off the register at the end of 1948 follow-
ing yet another accident at Darwin in May of that year.
).