VH-AED (1) de Havilland D.H.

94 Moth Minor (c/n 94008)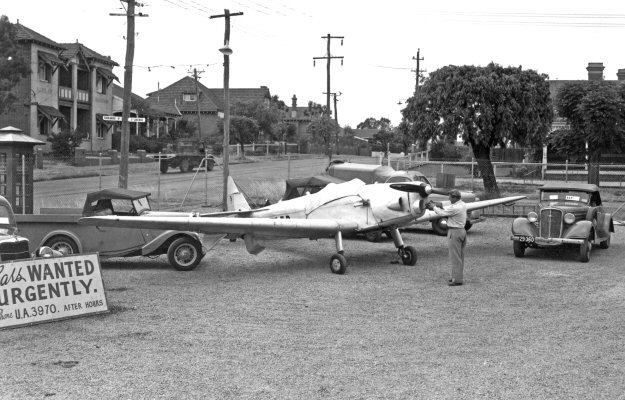 So desperate was this dealer for cars that he decided to break out and up the ante to aeroplanes.
Not quite - VH-AED is seen above in a car yard at Mount Lawley, a Perth suburb in 1954 after
it had been retired from Maylands Airport. Probably a publicity stunt. Originally built as
G-AFOM this Moth Minor went to Singapore just before WW II as VR-SBJ. It must have
escaped just before the Japanese invasion, although was not registered in Australia until October
1943. In 1954 it was sold to the owner of Moth Minor VH-AFV in Melbourne, and moved by
road cross-country to Moorabbin where its fuselage was used to rebuild -AFV. Because DCA
policy dictated that it was the fuselage which provided the identity, VH-AFV had its c/n changed
from 94088 to -AED's 94008 following the rebuild. The above interesting photo is from the
Geoff Goodall collection.