VH-AAU Douglas DC-3S1C3G (c/n 19904)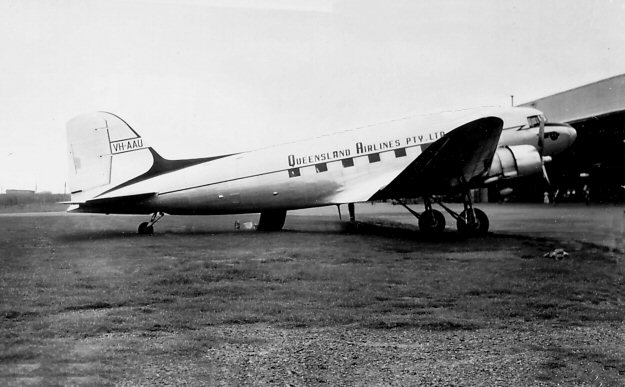 Here is the "second" VH-AAU. The shots above and immediately below were taken at Eagle
Farm Airport, Brisbane in 1952. I acquired ther lower, smaller image from somewhere showing
the aircraft in latter-day QAL colors. The lower, small image shows it in latter-day "Ansett" style
livery in the early 1960s. I have lost the provenance of this shot (Peter Gates?) VH-AAU was
later diverted to the Ansett-MAL fleet in Papua New Guinea. This aircraft was formerly Cathay
Pacific's VR-HDI. Prior to that it was with Philippine Airlines as PI-C24, and before that it was
a C-47A-85-DL Skytrain with the USAAF as 43-15438. Following its Ansett-MAL service it
was sold to Far East Air Transport in Taiwan in 1967 becoming B-247. It was dbr at Tainan Air-
port, Taiwan, ten years later.