VH-AAJ DHC-2 Beaver 1 (c/n 1066)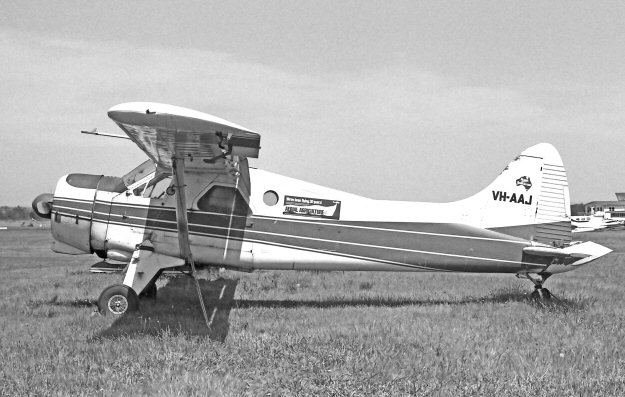 In this photo of -AAJ, taken by Greg Banfield at Bankstown on 10 November 1982, the Beaver
is displaying a decal advertising Aerial Agriculture's 30 Years of Flying (see enlargement below).
In Geoff Goodall's shot immediately below it was seen "down on the farm" at Goulburn, NSW
much earlier in 1965. Finally, at the foot of the page in a shot by Danny Tanner at Adelaide in
1985 it is displaying S.A. Country Fire Services titling. VH-AAJ was delivered new to Aerial
Agriculture (through the de Havilland Australia dealership) at the end of 1957. After many periods
of being "on and off" the register it has now been restored and drastically modified with advanced
wing mods, a lengthened passenger cabin and large dorsal fin, not to mention a beautiful set of
amphibious floats. As such it is currently registered VH-AWD to Air Whitsunday Seaplanes Pty
Ltd out of Airlie Beach, Qld. (and a lovely spot, too, I might add).