Supermarine Walrus L2177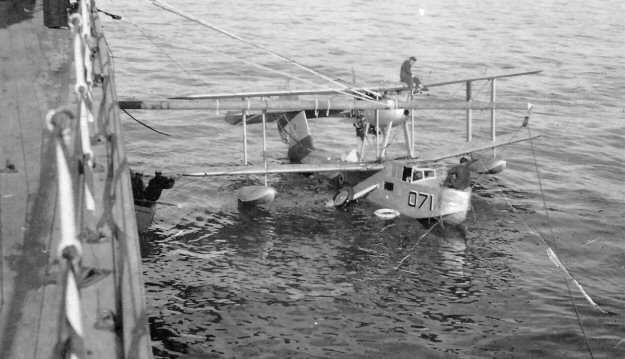 This shot came from a family album of Margaret Picard of Townsville, Queensland whose father
spent much time in Papua/New Guinea. Pursuant to that our first thinking was that this photo was
taken in that locale. Research, however, shows this not to be the and it turns out that the shot was
taken at Kalafarana, Malta, in August 1938 whilst the aircraft was being salvaged following a
sinking which occurred when the Walrus landed with the camera hatch open. L2177 had its first
flight in July 1937, and was crated for shipment to join 711 Catapult flight attached to HMS Sussex
at Malta in November of that year. It was being flown by Lt. H.F. Stokes, RN when the accident
occured. The three crewmen escaped safely. Following its salvage operation the Walrus was sent
to 102 MU at RAF Abu Sueir in Egypt for repair, and later transferred to the RAAF, serving aboard
the Leander class light cruiser HMAS Sydney in September 1940. Possibly this photo accompanied
the aircraft and somehow wound up in Margaret's collection. Anyway, just over a year later, in Nov
1941 the Sydney was sunk, with a loss of all hands, (645 souls) in a battle with the German auxiliary
cruiser Kormoran off the coast of WA some 130 miles SW of Carnarvon. (The Kormoran was also
destroyed as a result of this sea battle). Evidently, L2177 went down with the Sydney. .