SNCASE SE5000 Baroudeur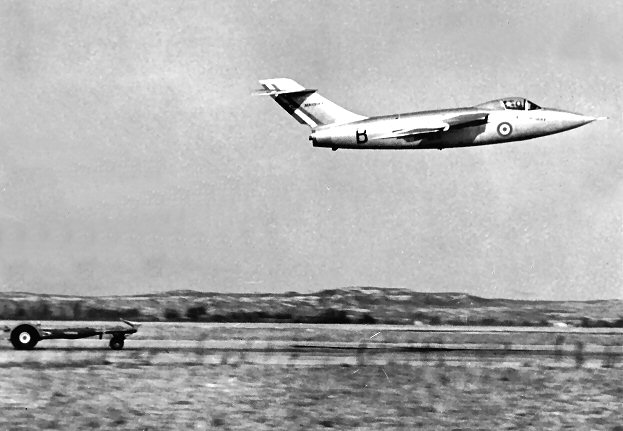 Two very grainy Sud-Est shots showing the Baroudeur taking off from its trolley (above) and
landing on its skids (below). The Baroudeur was designed as a tactical fighter capable of
taking off (and landing) virtually anywhere (like the Harrier now does). However, rather than
being a VTOL/STOL design, it used a rocket propelled trolley for take off and landed on its
skids. It could actually be taxied on the latter making recovery and replacement on another
take-off trolley simply and quickly. All in all a promising concept for the rapid deployment
of fighter aircraft without the need for fancy and expensive air bases. In the event, NATO
nations elected to adopt more conventional (read conservative) aircraft to meet the lightweight
tactical fighter requirement and development of the Baroudeur was discontinued. Power was
provided by a SNECMA Atar 101B turbo jet. The aircraft was designed by famed Polish
designer Wsiewolod J.Jakimiuk, better known, perhaps, for his design of the DHC-1 Chipmunk.