Republic F-84B-36-RE Thunderjet 46-652 / 46-653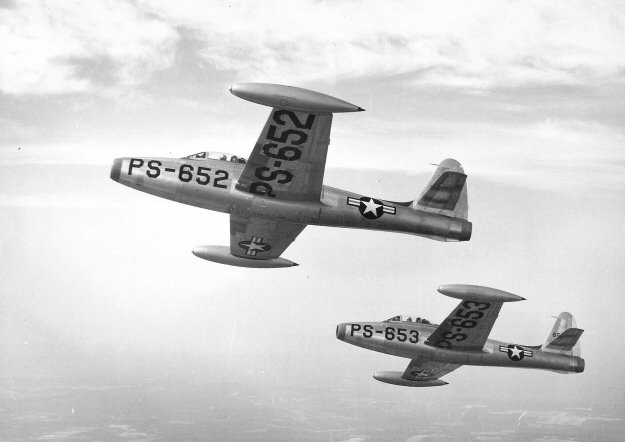 Nice Republic shot of two early F-84s climbing away from Farmingdale, L.I.N.Y. In actual fact,
when this photograph was taken, these aircraft were properly designated Republic P-84Bs. It
was not until 1948 that the 'Pursuit' handle was changed to 'Fighter', and this is a 1947 image.
Some sources list the P-84 as the U.S.'s "first post war jet fighter". I always give this distinction
to the P-80, since that machine never actually saw service during WW II. (True, a couple made it
to Italy in 1945, but did not fire shots in anger). Britain's Meteor, by that time, was already shooting
down V-1s.................... Anyway, the F-84 was an eminently successful aircraft and some 4,450
straight wing variants (the F-84F had swept mainplanes) were built and flown by no fewer than
fifteen air forces.