Lockheed F-5B Lightning 42-67332 / 42-267183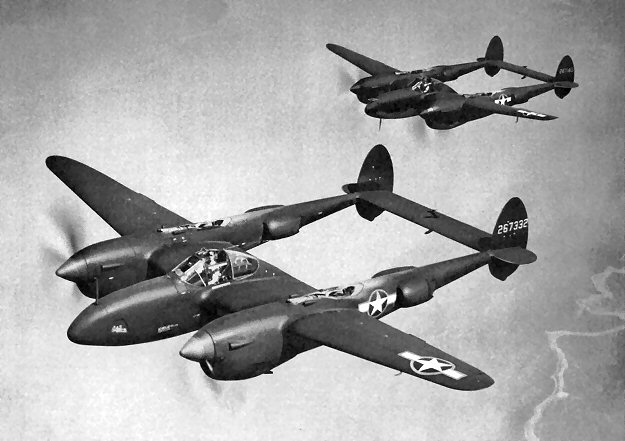 This grainy image came from a Lockheed produced Portfolio Series which were printed photo-
graphs rather than glossy prints, hence the grainy appearance. Over 1,000 P-38s were converted
to unarmed camera ships. The aircraft relied on speed to make its getaway from enemy fighters,
not that there were many Luftwaffe around to hinder them by the time the F-5 saw the majority of
its service. Lockheed points out, as an historical fact that, "from D-Day minus seven to D-Day plus
14, USAAF F-5s took three million pictures of the invasion territory". The aircraft nearest the
camera is a Lockheed F-5B-1-LO which was basically the P-38G model as converted, whilst the
chase plane (42-267183) was a F-5C-1-LO (the reworked P-38H). Both these aircraft fall within
a block of numbers of aircraft which saw extensive service during the D-Day landings and hence I
have every reason to believe that these two did also. Aero modeller Denis Vercaeren, in Belgium
points out to me that the F-5B in the foreground wore the PR Blue livery of a true photo-rec machine
whereas 42-67163 was in the Olive Drab/Neutral Grey markings of the pursuit group from which it
came (he has a color shot of the same two aircraft in a French publication).