Fiat G.49-2 I-FIAT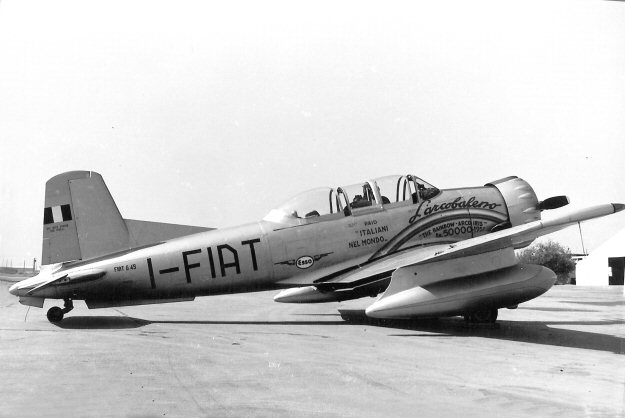 Yes, I know this is a civil registered aircraft. However, the few G.49-2s that were built (and there
may have been only three or so of them) were used by the Aeronautica Militaire .The G.49-2 was
powered by a Pratt & Whitney R-1340-S3H1 Wasp engine, developing some 610 h.p. within a
closely fitted helmeted cowling. A tandem two-seater, it had a raised rear canopy. First flight
was in September, 1952. The inscription on the forward fuselage on I-FIAT had me baffled, but
I am indebted to Martin Bernsmuller for the following historic explanation of it::
In 1957/58 the aircraft made a tour of South America, visiting, among other cities,
Porto Alegre on 5 Feb 1958 and arriving at Santos Dumont (Rio de Janeiro's old
international airport) on the 11th of that month. It then left Rio on board the SS
"Sises" back to Italy. The 'L'Arcobaleno' (Italian) and 'o arco-iris' (Portuguese) all
equal the English name "The Rainbow", also inscribed under that icon. The 50,000
is indicative of the kms flown on the road tour.