Fairey Firefly RAN WB518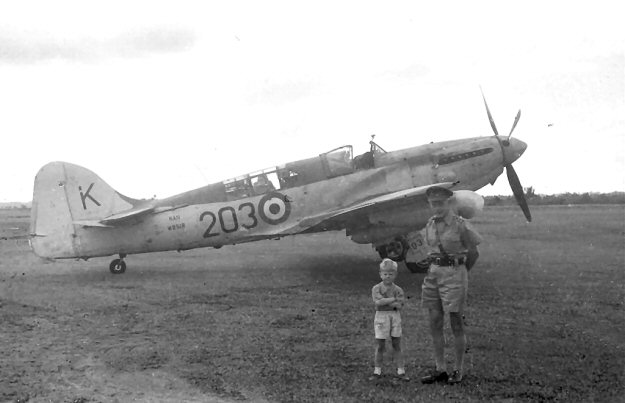 Firefly WB518 was one of the first of 10 MK VIs built, but still retained the earlier fuselage of the
MK V. It was originally delivered to the Royal Australian Navy's 817 Squadron. It exchanged
its aircraft for those of 816 Squadron for duty in Korea. After being retired from service, WB518
ended up on a pole in Griffith, NSW, where it served as a memorial to airmen. Twenty-five years
later, an Australian organization purchased the damaged wreck of Firefly WD828 and arranged to
swap it for WB518's fuselage. It was purchased in 1994 by Eddie Kurdziel, a NWA captain and
former U.S. Navy pilot. Over the years he has extensively restored it and was the winner of the
Post-WW II Warbird Grand Champion at the EAA's Air Venture in Oshkosh, Wisconsin in 2002.
The above photo was taken long before all this, of course, and is from the collection of Nick
Lindsley. That's little Nick (aged 4 or 5) standing with an unknown officer. The photo was
evidently taken by his father, Fred Lindsley who had a notable career in aviation.