de Havilland D.H.82A Tiger Moth A17-685 (c/n 3621)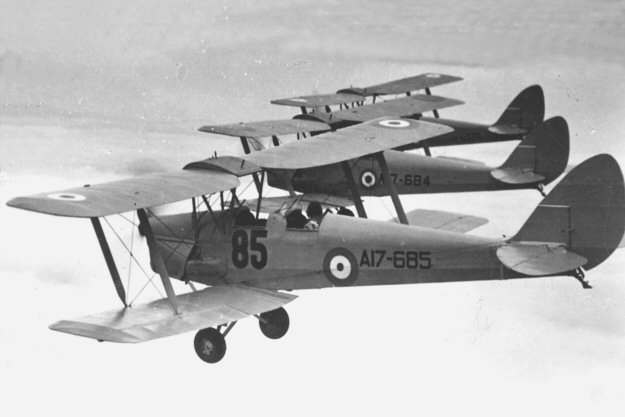 1,085 Tiger Moths were built in Australia by de Havillands at Bankstown. The first Australian
machine was first flown in late 1940. Not all of them went to the RAAF, some 62 being taken
up by the Dutch East Indies Air Force, 41 went to India and a couple went to Burma. After
WW II large numbers were civlianized, going to both clubs and also used for top dressing duties.
In addition to those Tiger Moths built by D.H. Australia, some 21 civilian Tigers (all Hatfield-built)
were impressed into military service during the hostilities. In fact, in the above photo, from the
Goulburn War Memorial Museum collection, all three of these Tigers were ex-civilian aircraft and
I suspect the photo was taken early in 1940 prior to the local built machines were delivered. The
lead aircraft, A17-685, was formerly VH-UYR imported in 1937 for the Royal Victorian Aero
Club It had crashed near Mornington in January 1939 but was rebuilt and impressed into service
in July 1940. A17-684, (c/n 82186) in the middle of the three, was ex G-AFNM and was to have
become VH-ADO. In the event the war intervened and it was immediately impressed into service
with the RAAF. After the war it was civilianized as VH-BIN. .