CAC CA-17 Mustang Mk 20 A68-1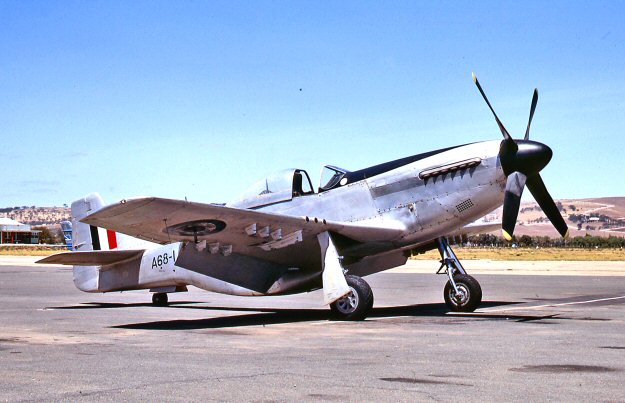 In the mid-1950s the British Government conducted atomic bomb tests in Australia's remote desert
areas. These were at Emu Field in 1953 and later at Maralinga, both in South Australia. Military
tanks and aircraft were placed at varying distances from ground zero to determine the blast effects,
of which six were surplus RAAF CAC Mustangs. They were A68-12, A68-7, A68-30, A68-35,
A68-72 and A68-87. All except the last were original CAC-17s, A68-87 was a CAC-18.

Just over a decade later these Mustangs were purchased as is by Stanley Booker of Stan's Airplane
Sales, Fresno California, who engaged Tony Schwerdt of Adelaide to remove them. Tony was to
keep one himself, and chose the prototype Australian built Mustang A68-1 which his team made air-
worthy under primitive conditions. The other five were dismantled and shipped to the US . Tony
flew A68-1 out to Coober Pedy and then on to Parafield with the gear in the fixed down position, but
DCA at that time had a firm policy restricting ex-military combat aircraft flying as civil machines, although
they did allocate the registration VH-EMQ (he wanted VH-EMU but that was already allocated to a
Cherokee) for it. Schwerdt was taken to court by DCA for his unauthorized ferry flight out of Emu.

.



Opinions vary as to the level of radioactivity these aircraft held when they were recovered from the
test site, and none of the scrap was ever (officially) tested for radioactive contamination. I do know
that at the time both Australian and British Servicemen were subjected to exposure at the tests in
Australia and also at Christmas Island in Oceania (used to be part of the Gilbert and Ellis Islands,
now Kiribati) and my boyhood best friend, Fred Taylor, was one of them. Fred died of a very
aggressive form of cancer in 1983 when he was a mere 50 years old. He used to tell of having
flown a couple of times through the mushroom clouds of H-bomb tests in a Vickers Valiant. .

Seen above is a nice shot from the John Hopton collection of A68-1 at Parafield after it had been
cleaned up by Schwerdt's syndicate. VH-EMQ was never granted a CofA and this aircraft, along
with the other five, were shipped to the USA. A68-1 was give a fake USAAF P-51 serial number
as its ID since the FAA

would only certify North American built Mustangs.

A68-1 is still flying
today with Wiley Sanders in Alabama as N51WB, although wears bogus RAAF markings and is
painted as A68-1001 (for some reason). The other five Mustangs went to Cavalier Aviation in
Florida as spare parts for their Mustang rebuild programs.

In June 1967 Geoff Goodall and mates paid a visit to Emu and took the shot immediately below
of A68-1 as it was left after the blasts. Finally at the bottom of the page is another Goodall photo
showing Schwerdt arriving triumphantly at Parafield on 6 December 1967.