Boeing 707-338C A20-623 (c/n 19623)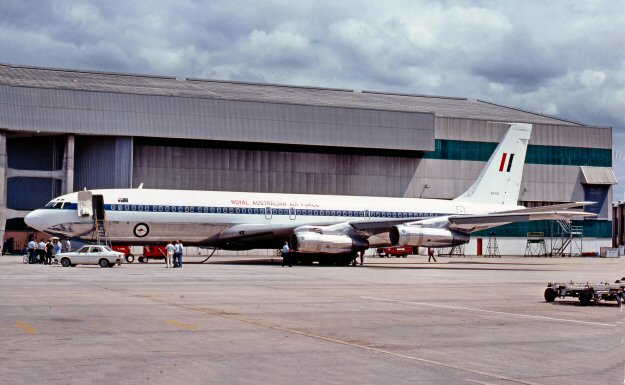 After this 707 had flown its final Qantas service (as VH-EAC from Sydney to Denpassar and back)
on 28 October 1978, it was sold to ITEL Capital Services. It was then leased to Ontario Worldair
in Canada and registered C-GRYN. Ontario Worldwide went bankrupt early in 1981 and it was
re-leased to Worldways Canada. At the end of this lease it ironically returned to Australia when it
was sold to RAAF in January 1983 as A20-623. Greg Banfield caught it at Mascot in February
1984, wearing a minuscule serial (enlarged below). It served the RAAF for almost twenty years
and, when finally demobbed in 2011 was sold off to Omega Air (in April 2011) as N623RH.
It appears to be non active, however, and is now in storage at Victorville, California. .