Boeing 707-338C A20-624 (c/n 19624)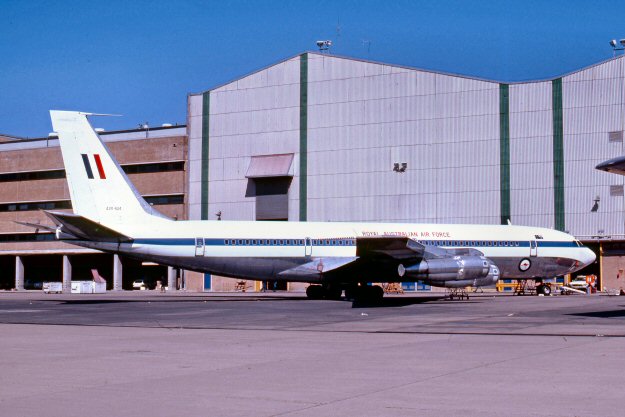 Like its stable mate A20-623 (ex VH-EAC) this 707 was originally delivered to Qantas. It had its
first flight in March 1968 and was registered VH-EAD. Unlike -EAC, however, -EAD remained in
Australia until March 1979 when it was converted to a tanker for the RAAF. Greg Banfield's shot
above, was taken at Mascot in September 1984 and shows it with the original unpainted lower fuselage.
By the time Greg's second photo, below, was taken (same venue, but in April 1987), it had been re-
painted with gray undersides. By 1998 it was gray all over in accordance with the norm of that time
for military aircraft. At the Avalon Air Show in 2007 it carried a "Farewell 707" logo on tail and "29
years of service to the nation" on the forward fuselage. The aircraft was retired in June 2008 and held
in open storage at RAAF Richmond. In September 2011, however, it was acquired by Omega Air
Services and registered N624RH. It departed Richmond on 23 October 2011 for Brunswick, GA
where it was given a major check prior to entering the fleet of this privately owned air refueling company.