Beech SNB-5 Navigator 67220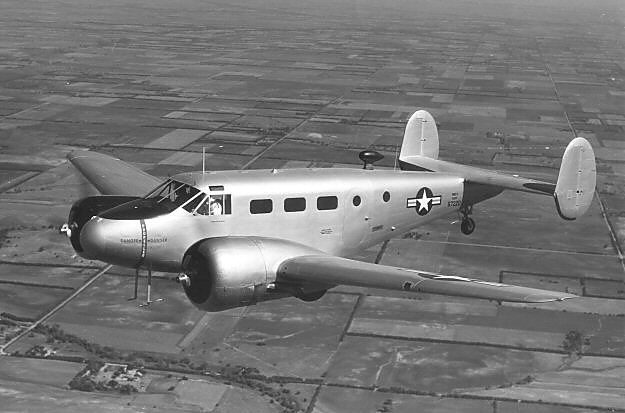 Nice Beech Aircraft Corporation study of a military Beech 18, this time a Navy one*. The US Navy
and US Marine Corps used the Model 18 extensively, some 1,500 examples winding up with Bureau
numbers. In 1952 a number of SNB-2s were re-manufactured to zero-time condition as SNB-5s,
and this was one of them. Later, in 1962 with the introduction of the tri-service designation scheme,
these aircraft became TC-45Js (or RC-45Js if they were of the reconnaissance persuasion).
* As opposed to the above 'staged' shot, below is a photo of a 'working' SNB. This one was
operated by the U.S. Naval Attaché - American Embassy - Australia - New Zealand in the early
1950s, and is probably an SNB-2 . The photo, from the Ellis Trautman collection, was taken at
Forrest, WA which is on the Nullabor Plain about half way from Adelaide to Perth. Possibly
refueling there on a trans-continental trip? I can not, even on the original print, discern more than
the first three digits of the BuAer No, which are '397--'. Any clues, anyone?