DHC-2 Beaver A95-201 (c/n 783)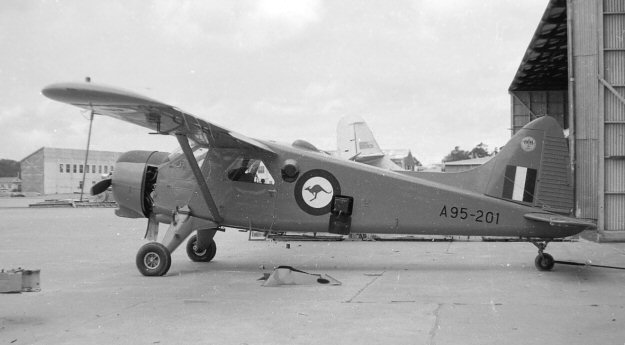 The photograph above is from the Trevor Fuller collection, via Maurice Austin and was taken at
RAAF Rathmines, circa 1958. (Note tail of a Catalina in the background). This Beaver had been
delivered to the Royal Australian Aiur Force in May 1955 and was used on the Australian Antarctic
Research Flight. It was wruitten off in a blizzard on Antarctica on 28 December 1959 and its bits
and pieces were merged with that of another Beaver, A95-203, which then took on the identity of
-203 with c/n 1052. My own shot of it below was taken in a hangar at Essendon just after the air-
craft arrived from Canada It is carrying the so-called 'Pregnant Kangaro" roundel which, fortunately,
was never adopted by the RAAF. A few aircraft were thus painted before the 'Flying Kanaroo", as
seen above (looking suspicially like the Qantas' logo) was brought in as the favored national marking.