Boeing 707-338C A20-627 (c/n 19627)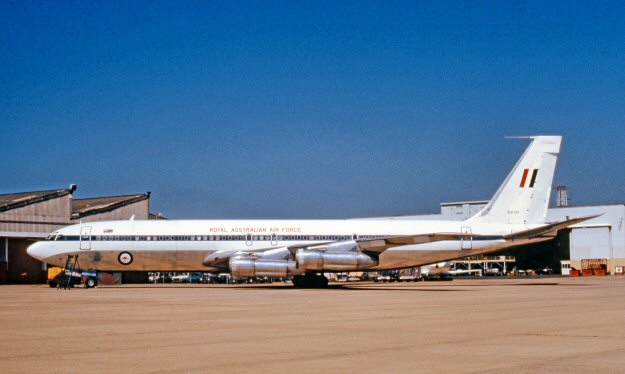 This was Qantas' VH-EAG. Both these shots are by Greg Banfield. In the lower one, taken at
Mascot in April 1979 it is still in basic Qantas livery, with a RAAF roundel and serial painted on the
red tail (see enlargement). Possibly the serial was applied as decals since some form of ID would
be required to ferry it to Richmond or somewhere, and, with a roundel, it could hardly be flown as
VH-EAG. Anyway, by the time Greg took the photo above, (also at Mascot) in March 1985, it
had been repainted in (the then) standard military livery This 707 had originally been delivered
to the international carrier in May 1968,. With the RAAF it was a VIP aircraft, and was named


'Windsor Town'.

It was withdrawn from service in 2001, used for spares and finally scrapped
at RAAF Richmond in 2009.