TF-RVH Douglas DC-4 (c/n 10278)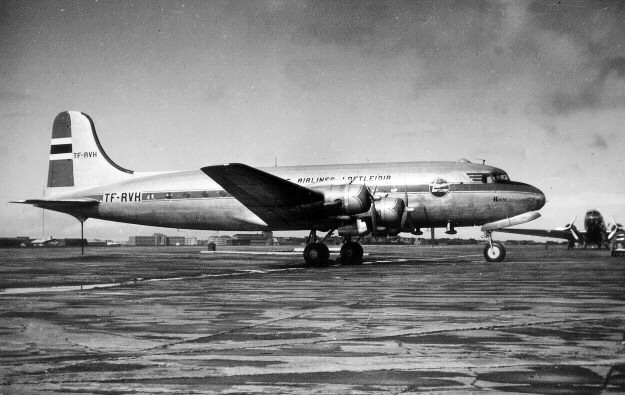 There were two TF-RVHs, both DC-4s. Both carried the name '

Hekla'

. .This is the second one
acquired in May 1952. The first (c/n 7485) was destroyed by fire whilst landing at Pisa, Italy in
January of 1952. C/n 10278 was a C-54A-1-DC (42-72173) and was formerly Transocean
Air Lines' N50787. It was sold to Lloyd International Airways in 1961 as G-ARLF. Loftleidir
used it on their low cost services from New York to Luxembourg, via Reykjavik and Prestwick.
So successful did this operation become that Douglas DC-6Bs (and eventually Canadair CL-44s)
were added to the fleet in the 1960s. For roughly half the regular IATA fare a passenger could fly
from New York to Europe, albeit taking several hours longer, due to the mandatory stop in Iceland.