TF-RVC Douglas DC-4 (c/n 27240)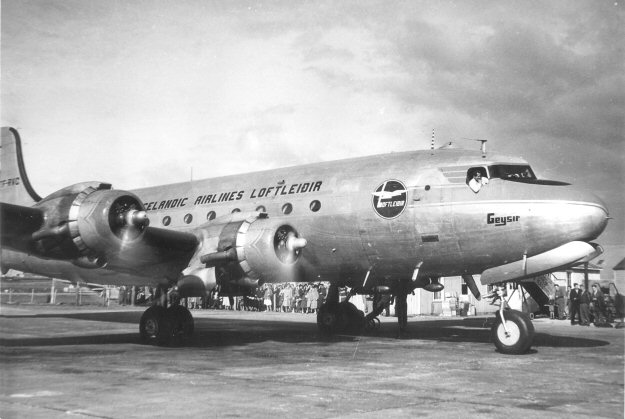 Loftleidir was founded in 1944 and by 1948 had begun concentrating on operating cut-rate
trans-Atlantic services. In fact, it gave over its non profitable local routes to Flugfelag. These
trans-Atlantic low cost fare flights were not looked upon too kindly by the IATA carriers flying
the route but, despite the fact that Loftleidir received no help whatever from the government,
it was able to enjoy economic success simply by keeping its fares low. This, despite the fact
that the carrier had to stop over at Reyjavik since at the time airlines were only attributed traffic
rights to and from their home countries. However, Loftleidir used this opportunity to give its
passengers a hot meal during the stop-over, a luxury which the other low cost carriers did not
provide. TF-RVC was the second DC-4 acquired by the carrier, (the first was TF-RVH)
and was a fairly late model ex USAAF C-54B-20-DO (serial 44-9014), which had previously
been leased by Transocean Air Lines as N66635. It is seen here in early Loftleidir livery, which
by that time had begun trading as Icelandic Airlines (not to be confused with Flugfelag's dba
of Iceland Airways). In the event the two companies merged in 1973 and continued operating
under the Icelandair title. While operating a charter freighter flight for Seaboard & Western on
14 September 1950, TF-RVC crashed on the northwestern slopes of the Vatna Jokull Glacier
at an altitude of 6000 feet. The aircraft was a total write off but the crew of 5 sustained minor
injuries. The survivors were found a week after the crash because of good weather. They
were in good condition because the cargo turned out to contain expensive furs and Swiss
chocolates!