TF-RVB Stinson SR-8B (c/n 9760)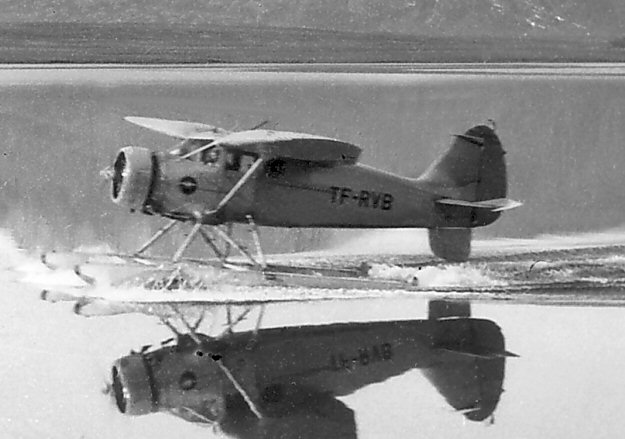 This scratchy image was received from Loftleidir in the 1940s. It was one of the aircraft with
which the company was founded in 1944. The Stinson was formerly the Gulf Oil Corporation's
NC16178. Note large ventral fin to counteract the side area of the floats. Domestic inter-island
routes were operated with a motley fleet. (This included a Stinson L-1A Vigilant, an Avro Anson
and a Noordyn Norseman among others). In 1952 the Icelandic government split the routes up
between the two carriers for fear that fierce competition would compromise flight safety. In the
event Flugfelag were left with their oldest (and most profitable) routes, whilst Loftleidir were more
or less forced to withdraw from the domestic market and concentrate instead on their international
services. Flugfelag took over their domestic routes. Anyway, out of this decision came the famous
New York-Iceland-Luxembourg cut-rate service enjoyed by many thousands of cost conscious
travelers over the years. In fact, Loftleidir was the world's first truly low cost airline.