TF-ISH Douglas DC-3 (c/n 13861)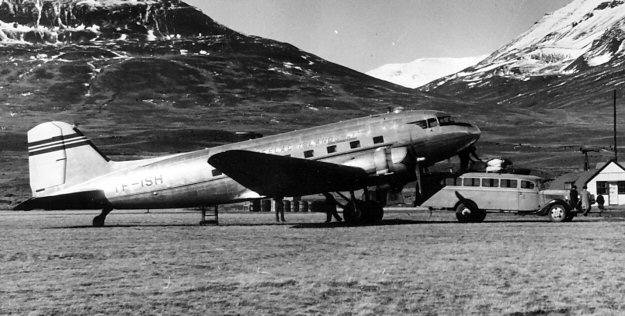 Immediately after WW II Flugfelag Islands began local services within Iceland. A motley fleet
was operated, including half a dozen DC-3s. TF-ISH was its first and spent its entire life in
Iceland. A former C-47A-60-DL (43-30710) with the USAAF it was attached to the 1386th
Base Command at Meeks Field, Keflavík. After hostilities ended it was purchased by Flugfelag
Islands and named

"Gljafaxi"

('Shining Horse'). It is seen above in 1948 at Akureyi Airport.
This DC-3 operated for a while with the Icelandic State Soil Conservation Service in an agricultural
capacity as TF-NPK. It is still flying, although is now used for nostalgic passenger flights and
wears full Icelandair livery.