TF-ISE Douglas DC-4 (c/n 10378)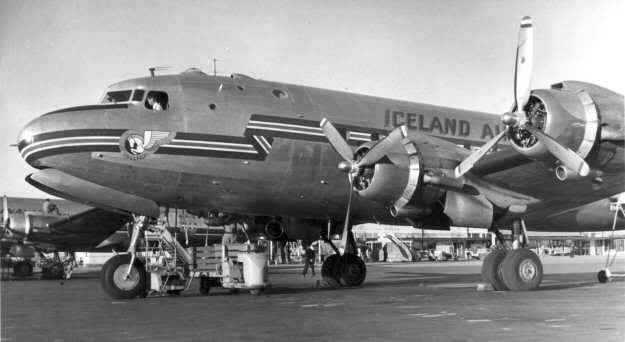 The name

"Gullfaxi"

('Golden Horse') gives the identity of this DC-4 as TF-ISE. Iceland Airways
was the trading name for Flugfelag Islands, founded in 1937 with a Waco floatplane. After WW II
the company began international routes from Reykjavik to Stockholm and Copenhagen via Prestwick,
Scotland. TF-ISE was a former C-54A-15-DC (42-72273) and was civilianized for Phillippine Air-
lines in 1946 (as PI-C101). Icelandair acquired it in 1948. The above photograph was taken at
Stockholm's Bromma Airport in 1949, whilst the less than illustrious shot below shows it in flight
over Iceland. In 1958 it was sold in South Africa as ZS-CJA.