TF-ISA Douglas DC-3 (c/n 12184)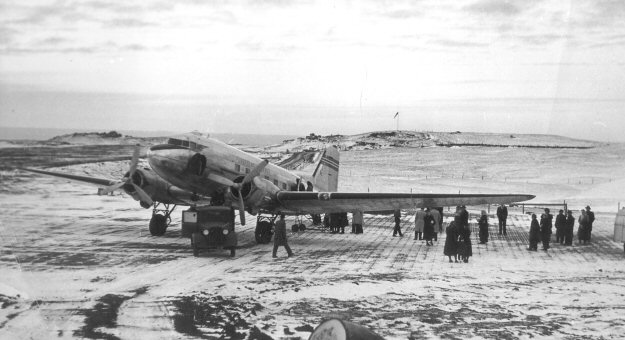 The name 'Glofaxi' can be discerned on the original print of this DC-3, making it TF-ISA.
Olafur Sigurdsson in Iceland advises that 'Faxi' in Icelandic translates to 'Horse' and that
all Flugfelag aircraft had 'Faxi' names. 'Glowfaxi' was "Glowing Horse". TF-ISA was the
third DC-3 in the fleet (following TF-ISH and -ISG respectively). Formerly C-47A-1-DK
42-92389 and RAF Dakota FZ628 it was civilianized in 1946 as PH-NZR. In February
1967 it was landing on skis at Danmarkshavn, Greenland, and during taxiing one ski hit
an obstruction causing the gear to collapse. Due to the extreme weather conditions the
aircraft could not be repaired in situ and it was dismantled and all valuable items removed.
The empty hulk was then burned.