SX-DAA Consolidated LB-30 Liberator (c/n 55)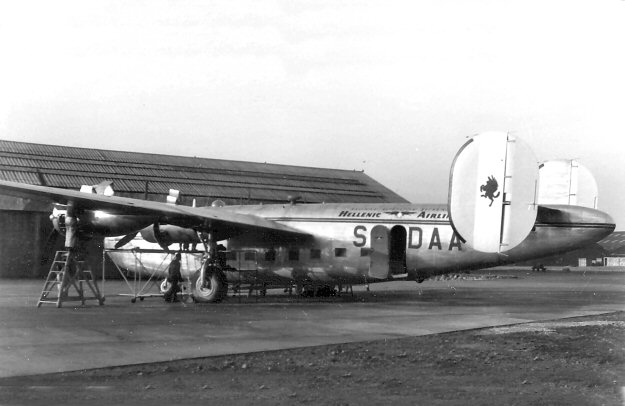 Hellenic Airlines was founded in 1947 by an agreement with Scottish Aviation of Prestwick and the
Greek military. A service was flown from Athens to London's Northolt Airport where SX-DAA was
a common visitor. Two Liberators were used initially (the other was SX-DAB) although these were
replaced in 1948 by DC-4s. This shot was taken at Scottish Aviation's maintenance base at Prestwick.
SX-DAA had flown with the RAF as AL557 and was civilianized as G-AGZI. It went to the Morrison
Knudsen Construction Company in 1951 as N9981F, then N68735 and finally N92MK. It crashed
landed in Anchorage, Alaska in 1958 and was written off. Rescued some years later it has been exhib-
ited in both the Alaska Aviation Heritage Museum and the Lone Star Flight Museum, Galveston, Texas.
It was, until recently, stored at Vintage Aircraft, Ltd, Ft. Collins, Colorado. Hellenic Aielines was
nationalized in 1951 into the then Greek state carrier T.A.E.