SE-BBF Douglas DC-4-1009 (c/n 42929)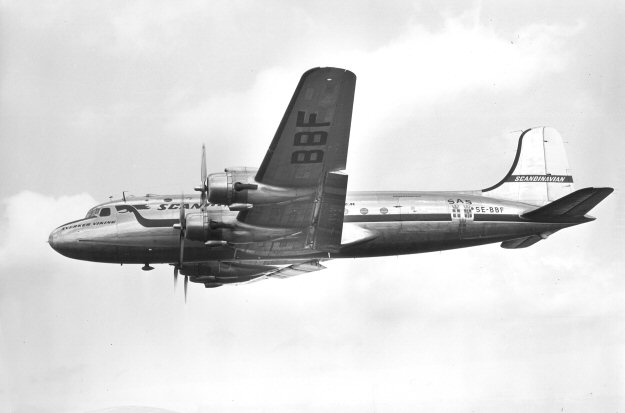 This excellent shot of a DC-4 just beginning its let down to landing came from SAS in the late
1950s. By this time the aircraft had been renamed "Sverver Viking" from its original "Vastan"
when first delivered to AB Aerotransport in 1946. In 1948 SAS operated its DC-4s on trans-
Atlantic services. Flight 1690 left Stockholm Bromma at 18.00 hrs on Mondays, Thursdays
and Saturdays and arrived at New York's La Guardia Airport at 16.00 hrs the following after-
noon. Allowing for the time difference this nevertheless represented an unpressurized trip of
some 28 hours, with intermediate stops in Oslo (Norway), Prestwick (Scotland) and Gander
(Newfoundland). SE-BBF was sold to Avianca in 1955 as HK-174.