SE-ABA Fokker F.XXII (c/n 5359)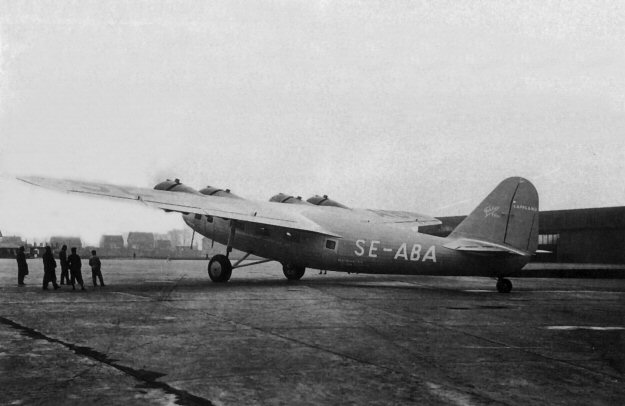 AB Aerotransport, the national airline of Sweden, was founded in 1924 using Junkers F.13s. The
original route was from Stockholm to Helsinki. Later, routes to Germany were developed, whilst
by the mid 1930s most of Europe's capitals were to see ABA aircraft serving them. The Fokker
F.XXII seen above in this less than spectular image (from Fokker) was the only one of its kind
delivered to ABA, and one of only four built altogether. It was, at the time (1935) the pride of
the fleet, and was given the out of sequence registration SE-ABA and the name

"Lappland"

.
Unfortunately, in June 1936, while landing at Malmo airport in southern Sweden, the captain mis-
takenly opened the throttles (instead of selecting the propellor pitch handles) while the engines were
in weak mixture causing all four to stall out. The resultant crash landing (there were no fatalities)
was sufficient to damage the aircraft beyond repair.