PH-TAH Douglas DC-4 (c/n 10392)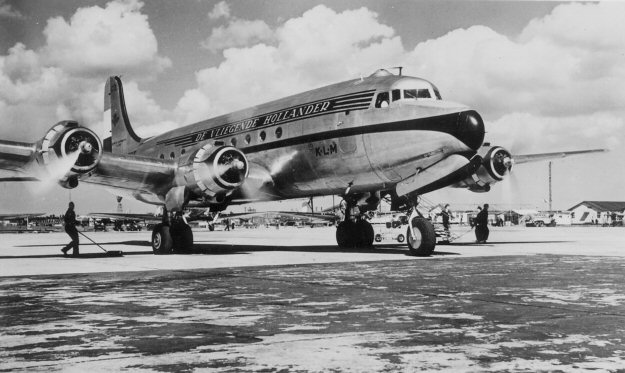 After WW II KLM began registering its aircraft in the PH-T-- series (presumably "T" for Transport).
Close examination of the original of this print, received from KLM in 1948, reveals that the identity
on the fuselage is actually NL-307. It was re-registered PH-TAH at the end of 1945. In late 1944
the Dutch Government set up the Netherlands Government Air Transport service. This pseudo-
military arm was equipped with approximately 18 ex USAAF C-54s with NL- serial numbers.
It began running services between the recently liberated Amsterdam and the U.K. Most of these
C-54s were civlianized for KLM, and the shot above was evidently taken before the civil registration
had been applied. Seen below is a poor (although the only one I have) image of a NGAT C-54,
which, on the original print, can just be identified as NL-311 (c/n 10391 and which became PH-TAM).
In the post WW II period KLM, in lieu of the port side "Royal Dutch Air Lines" and the starboard side
(normally) "Koninklyke Luchtvarrt Maatshappy" now sported "The Flying Dutchman" and "De Vliegende
Hollander" with apparent random selection as to which side was painted with which. PH-TAH (above)
was sold in 1948 to T.A.I. as F-BELG., whereas PH-TAM (below) went to Air France as F-BELO.