PH-APE Lockheed 14-WF62 Super Electra ( c/n 1413).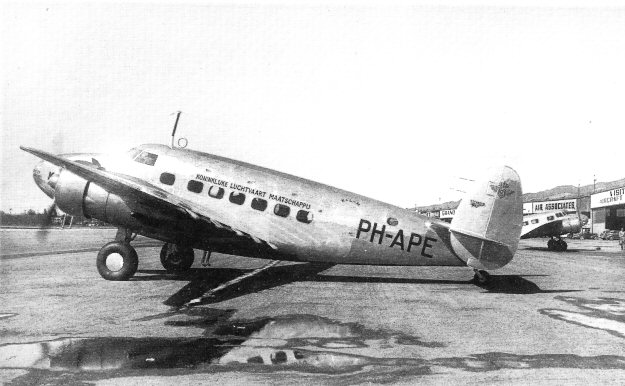 In 1938 KLM ordered six Lockheed 14s. Four were destined for the West Indies Division and
two were to be used in Europe As was their want in those days, KLM named their aircraft after


birds.

PH-APE was named

'Elkster' (Magpie),

whilst the other 'local; machine, PH-ASL, was
'Lepelaar' (

Spoonbill).

'. On 9 December 1938 PH-APE crashed near Schiphol on a training
flight It appears that the starboard engine failed at low altitude due to pilot error. The aircraft
stalled and crashed on a farm, struck a dike and burst into flames. All four crew were killed.
The above image is from the Bill Larkins collection. It was originally taken at Grand Central Air
Terminal in Glendale, California by John C. Mitchell in 1938.