PH-AKH Douglas DC-2-115E (c/n 1354)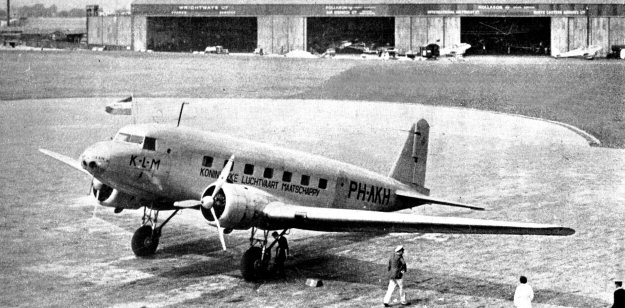 Here's a grainy old image taken at Croydon, circa 1937. (My father acquired it for his scrap book
from, I believe, a pre WW II Air Show catalogue). It was the third DC-2 delivered to KLM and
named

"Haan"

. It was one of a large (for the 1930s) fleet of these modern airliners which would
eventually number some 19 machines. Just prior to the Netherlands being overrun by the German
Army in 1940 it was sold to AB Aerotransport in Sweden as SE-AKE. It later flew with the
Finnish Air Force as DC-1, later DO-1. It wound up as a coffee shop at Lakeside Square in
Hameenlinna, Finland, but was rescued and is, I understand, on exhibit at the Jyvaskyla Museum
in Finland.