PH-AIZ Fokker F.XX (c/n 5347)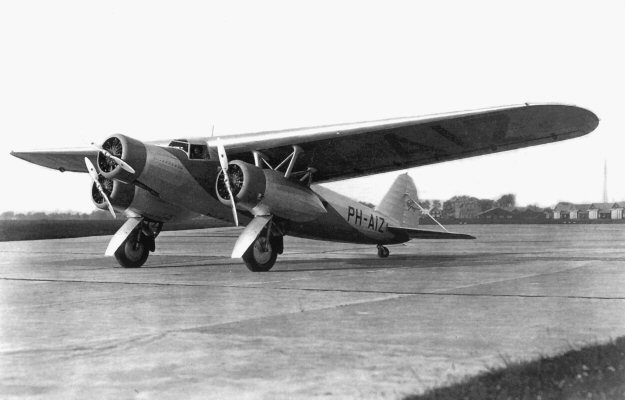 The F.XX, named

"Zilvermeeuw"

(Herring Gull) was designed to reduce the scheduled time
on the East Indies route. It was some 30 kts faster than the F.XVIII thanks to its retractable
undercarriage and generally cleaner design. At Christmas in 1933 a contest was staged be-
tween the F.XX and the Pander Postjager to see who could fly the mails to Batavia in the
shortest possible time. The Pander machine broke down in Italy, and the F.XX developed
engine problems before it even left the ground. These early teething problems proved disas-
trous for the F.XX (although basically it was a good design), and, in the event, PH-AIZ was
the only one built. It went on the serve KLM with distinction (and broke several point to point
speed records) for a couple of years but wound up in the Spanish Civil War on the Nationalist
side. It was destroyed in a crash in Spain in 1938. The close up immediately below shows
the retractable undercarriage, gear doors and neatly cowled engine detail to better advantage,
while at the foot of the page is the John Player & Sons cigarette card rendition of PH-AIZ.