OY-DFI Douglas DC-4-1009 (c/n 42931)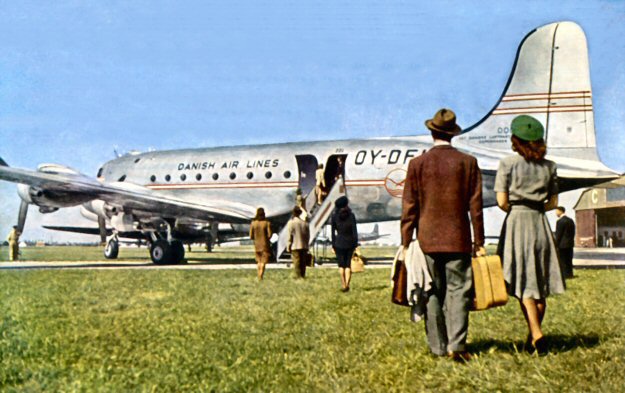 Ah......those were the days.....when one could board an airliner by walking across the grass.
In 1946 the newly emerged (after WW II) DDL took delivery of two new purpose-built (i.e.
not converted C-54s) DC-4s. (The other one was OY-DFO). My image is from a post
card of the era. The DC-4s were not to remain in Danish Air Lines markings for long, how-
ever, since on 1 August 1948 the three Scandinvian airlines: Det Danske Luftartselskab A/S
(DDL) of Denmark, Det Norske Luftfartsselskap AS (DNL) of Norway and AB Aerotransport
(ABA) of Sweden merged to form the Scandinavian Airlines System consortium. For a while
(until about 1951) the three companies retained some form of autonomy but later all new air-
craft were registered in one of the three national registers, (SE-, LN- or OY-) in some sort of
stock holding ratio. After eight years of service with SAS as

"Dan Viking"

, OY-DFI was sold
to Air Charter in the U.K. as G-AOXK. (It wound up and was withdrawn from use in, the
Congo, in 1977).