OY-DDA Douglas DC-3 (c/n 19288)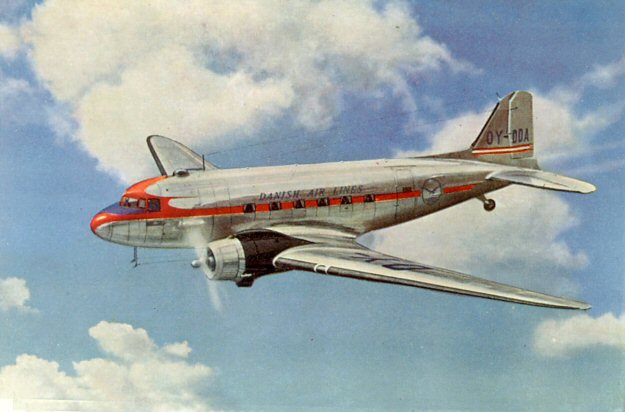 This post card was probably a coloring of a black and white photo. Whatever, it is the only image
I have of this historic Danish Air Lines DC-3. OY-DDA was one of a dozen similar machines oper-
ated by DDL at the time that SAS was born. This one became

"Sven Viking"

with Scandinavian
Airlines System. It was built as a C-47A-70-DL (42-100825) and was one of the C-47As used in
support of the allied landings over Normandy on D-Day It was later sold to a broker and registered
in the US "foreign" series as N9984F before returning stateside to become Piedmont Airlines' N50V
"Chesapeake Pacemaker". It later went to the French Navy who used 100825 as its serial number.
This aircraft has been preserved and is on display at the Ligue D' Amitie Parachutist Airborne Troops
Museum at St. Mere Eglise, France. It has been modified back to full C-47A standard and is painted
as it was during the airborne assaults of June1944.