OO-SFA Douglas DC-7C Seven Seas (c/n 45157)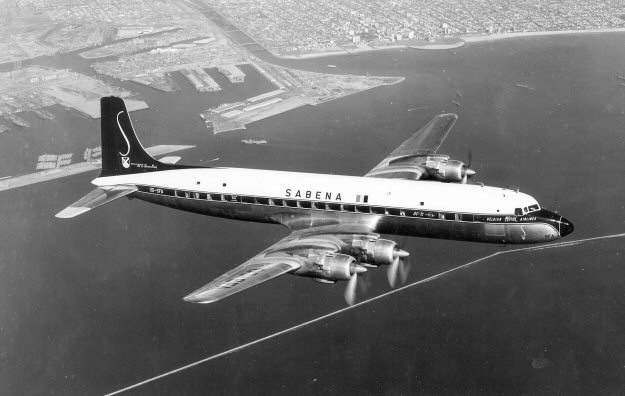 Here's a manufacturer's photograph taken in late 1956 over Long Beach harbour, California,
of the first of ten DC-7Cs delivered to the Belgian national carrier. Sabena, along with just
about every other European national airline operated this, the ultimate of the Douglas four motor
transports. They were operated initially on the prestigious trans-Atlantic run from New York
(Idlewild in those days) to Brussels Melsbroek Airport. As jets were introduced the DC-7Cs
were relegated to the African routes. OO-SFA was destroyed in a crash near Casablanca-
Cazes Airport on 18 May 1958. The aircraft had departed Lisbon for a flight to Leopoldville
(now Kinshasa), in the Belgian Congo. Severe vibration in the number 1 engine forced the crew
to shut it down. Casablanca ATC was advised that the flight wanted to make an emergency
landing there. At 04:19 a runway 21 approach was attempted, but the aircraft did not touch
down. Some 600m beyond the runway threshold at a height of 5m, full power was reapplied.
The DC-7 was then seen to climb whilst in a sharp left turn. At approximately 25m, the aircraft
stalled and crashed into buildings and caught fire. 61 of the 65 souls on board perished.