OH-LCE Douglas DC-3 (c/n 12970)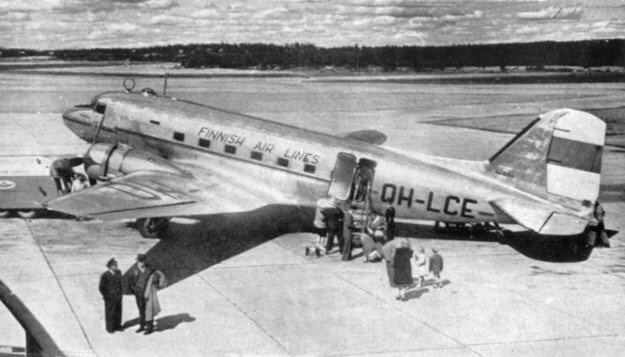 This image came from a post card and was not a true photograph, but a rotorgravure reproduction.
It does, however, illustrate another of Finnish Air Lines' ex C-47s, this one a C-47A-20-DK Sky-
train with an illustrious history. It carried the 82nd Airborne Pathfinders on D-Day, and was the
17th aircraft into Normandy. It later flew on a resupply mission to the 101st at Bastonge and
carried the 506th Pathfinders into Holland for Operation Market Garden. It was civlianized in
1946 as OH-LCE and flew with the airline until into the 1960s, as evidenced by the image of it
(below) taken at Copenhagen's Kastrup Airport in 1961 by Air Britain member George Trussell.
(This image is presented courtesy of "GeorgeTrussell/www.abpic.co.uk"). As can be seen, by this
time the airline had begun calling itself Finnair. When the Convairs began replacing the DC-3s,
OH-LCE went to the Finnish Air Force as DO-12. It was sold in the US in the 1980s as N58NA
and somewhat restored to D-Day markings. It is, I believe, still flying with Saber Cargo Airlines
out of Charlotte, NC.