OH-LCA Douglas DC-3 (c/n 9799)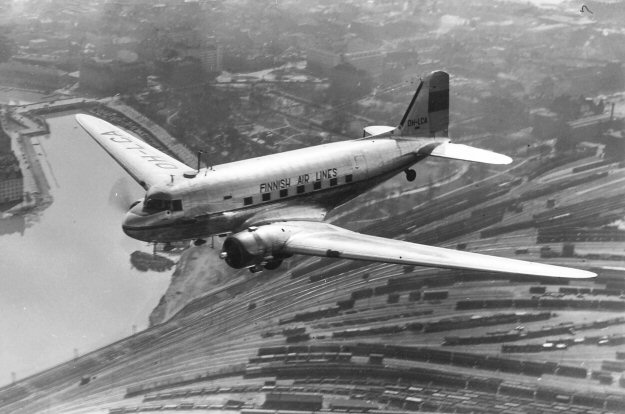 Finnish Air Lines (Aero O/Y) was founded as far back as 1923. By 1924 a route was being flown
from Helsinki to Tallinn, Estonia using Junkers F.13 float planes. After WW II the company equip-
ped with 8 war surplus C-47s. The first of these, OH-LCA is seen above over Helsinki. This shot
was probably taken in the early 1950s since the registration had been moved to the tail, in keeping
with the standard for that day and age. OH-LCA was the former C-47A-35-DL 42-23937 and was
acquired by Aero O/Y in 1946. On 8 November 1963 the aircraft was working Flight 217, a local
Helsinki-Turku-Mariehamn schedule which left Turku at 16:20 GMT. The last leg of the flight was
carried out at an altitude of 2000 feet. At 16:57 the crew reported over the Mariehamn NDB on the
inbound track to runway 20. During the approach the aircraft struck trees in a more or less horizontal
attitude some 1470m before the threshold of the runway, but unfortunately flipped over and caught fire,
killing 22 of the 24 souls on board. The probable cause of the accident was given as a faulty altimeter,
although clearly conditions were below minimums for that airport at that time.