OE-LAB Vickers Viscount 799 (c/n 250)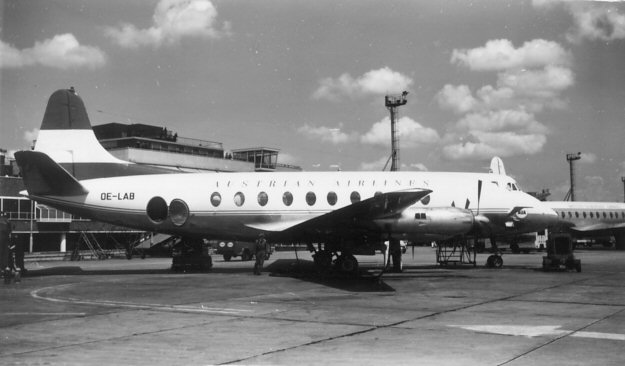 Like Lufthansa, Austrian Airlines was only formed a decade or so after the end of WW II. For that
reason the only image I have of an Austrian Airlines aircraft is the nice shot above taken by Jennifer
Gradidge at London Airport in the the late 1950s. I had pretty well quit writing to airline companies
by the time Austrian had been formed. Initially two companies had vied to offer air services from the
former Third Reich territory. They were Air Austria and Austrian Airways. In 1957 both agreed to
a merger forming Austrian Airlines and the first service began on 31 March 1958 using the aircraft seen
above. It had been leased from Fred Olsen Air Transport (ex LN-FOH), and flew a route from Vienna
to London via Zurich. This particular Viscount wound up with Indian Airlines in 1962 as VT-DOE.