LN-SUH Short S.A.6 Sealand (c/n SH.1569)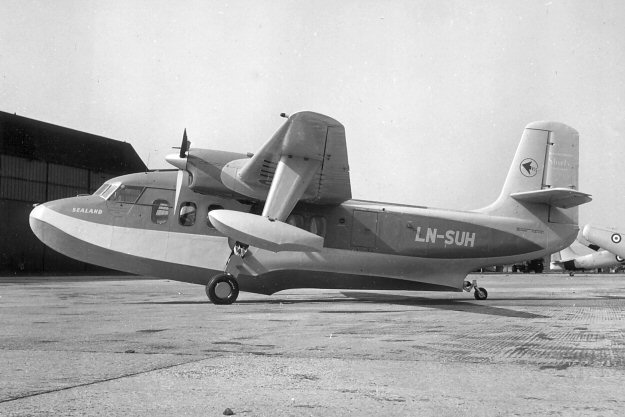 Vestlandske Luftfartselskap was a Norwegian charter outfit with a contract with Braathens to fly
scheduled services between Bergen, Alesund and Trondheim. In 1951 it purchased two Short
Sealands, LN-SUF and LN-SUH. Both were modified to be pure flying boats (i.e. the under-
carriage was removed). In this guise they were reclassified as model S.B. 7s. However, the
above shot, taken at Short Bros and Harland's Belfast facility in 1951, shows the aircraft before
this conversion took place and hence it is still in S.A.6 configuration. VLS was taken over by
Braathens in 1958 and I am not aware of the fate of the Sealands following the merger. Despite
the fact that this was a nice looking amphibian, only two dozen Sealands were built and one
wonders, in retrospect, why so many UK manufacturers, especially in the 1940s and 50s em-
barked on so many of these money-losing propositions. Clearly their research as to the potential
market for many of these designs must have been grossly overly optimistic.